The 2021 Subaru Love Promise Customer and Community Commitment Award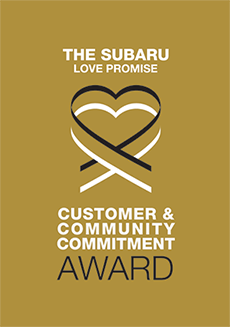 We've been nationally recognized for our dedication to our customers, our community, and the Subaru Love Promise.
We're honored to receive the 2021 Subaru Love Promise Customer and Community Commitment Award. This award nationally recognizes elite Subaru retailers who provide an exceptional customer experience at every interaction with Subaru. These retailers have also demonstrated an outstanding commitment to supporting passions and causes in their local communities in important areas such as the environment, community, health, education, and pets.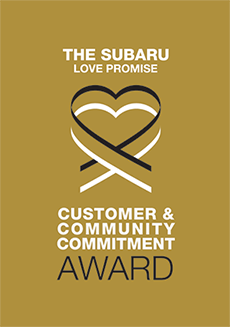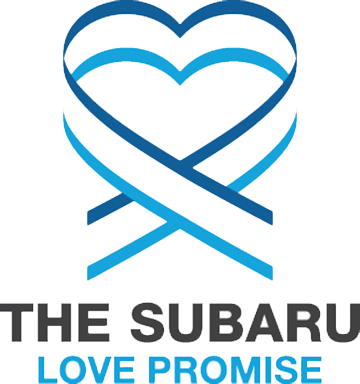 What is the Subaru Love Promise?
Subaru and our retailers believe in making the world a better place and the Subaru Love Promise is our vision of respecting all people. This is our commitment to show love and respect to our customers and to work to make a positive impact in the world.
How is Suburban Subaru dedicated locally to the Love Promise?
Suburban Subaru's Love Promise begins with how we treat our employees, our customers and extends in to our community. We are privileged to offer wonderful products at an exceptional value. The strength of our business is based on our employees and the services we offer our customers and our community. The strength of our community depends on all of us, contributing to our ability. We are proud to serve.
Fidelco Guide Dog Foundation
Friends of Hockanum River
United States Military Academy, Porter and Chester Institute, Howell Cheney Tech High School, Lincoln Technical Institute
Unico Foundation - Manchester, Manchester & Vernon Lions Club, Vernon Town Fireworks, Vernon Memorial Day Parade, Vernon Toys for Tikes
Windham Hospital, Harrington Healthcare
Love Promise Stories from Suburban Subaru
Subaru and Suburban Subaru believe in making a positive impact on the communities in which we live and work. We uphold that belief through our Love Promise Community Commitment. Every month, we select inspiring stories from customers and partners from around our area who strive to support our collective commitment and feature them here
Hockanum River Trail Cleanup with Suburban Subaru - Clifford F
On a recent Saturday morning my family and I had the chance to team with Suburban Subaru in cleaning up the park area and Riverbank around the Hockanum River. Primed with coffee, donuts, and goodies (thanks to Suburban!) we were an eager enthusiastic group of "garbage picker uppers". Suburban provided us with trash picking up wands, gloves and garbage bags. From what I could see everyone wanted to cleanup the river trail in one morning bringing back tires, cans, bottles, paper, plastic bags, scraps and the like to dispose of. One participant I spoke with even mentioned an "old car" they found embedded in the river bank and wished we could "get it out of there". Although we couldn't retrieve all the garbage and stuff humanity had littered the area with...a dent was made to the better and we left the area much cleaner than we started. It was a wonderful trek down the trails with our garbage bags and we were stopped several times on the trail and thanked by residents from the area for what we were doing. Since we live in the area, I found it amazing there is really a lot we need to do to cleanup or own local waterways. The State representative for keeping the sound clean put it best, all the streams and rivers eventually flow to the ocean. Our local cleanup helped keep the sound clean which is good thing. In summary...its the kind of thing which "just made you feel good" and I was so happy we could participate and be part of this cleanup event sponsored by Suburban Subaru. "Feel the Love!"
---
Suburban Subaru and Fidelco Share the Vision - Mark M
What an interesting year 2020 has been. Even during the COVID-19 crisis, the Fidelco Guide Dog Foundation has continued its life-changing mission to provide guide dogs to the visually impaired. On December 22, 2020, Suburban Subaru's President, Peter Krause, and General Manager, Lane Resnik had the honor of delivering two NEW Subaru's to Vice President and Director of Guide Dog Training/ Client Services of Fidelco,Tamer Mourad! Dogs in training; "Reagan," "Junip" and "Levi" were alongside to check out the new 2021 Subaru Ascent and 2021 Subaru Outback! These two new Subaru's make a total of six vehicles that have been donated from Suburban Subaru to Fidelco. Operations continue without interruption at Fidelco. Since September, Fidelco has placed over a dozen guide dogs as the staff navigates travel restrictions caused by the pandemic. This means evaluations are made daily about where dogs and trainers can go and how they can work to complete placements and stay safe and healthy. The dogs are at peak performance while waiting for a safe window of time to be placed and it's a joy for all to see them move into their new life partnerships. An even bigger plus, is that the dogs are raring to go-you can almost see them thinking "enough training, let's go to work!" Fidelco Guide Dog Foundation, Inc. is dedicated to limitless potential — to ensuring men and women who are blind enjoy increased independence to improve their lives and the world around them. Their clients raise families, serve America in the military, and sacrifice on the battlefield. They advocate for those who are visually impaired, win gold medals as world-class athletes, educate, and more. It takes 2 years,15,000 hours, and $65,000 to create each life-changing guide dog partnership. All Fidelco guide dogs are provided to clients at no cost thanks to generous support from individuals, foundations, corporations, and other organizations. Suburban Subaru is proud to continue to help Share the Love - Share the Vision.
---
Acts of LOVE - Britlyn S
As we celebrate our 34th year here at Suburban Subaru in Vernon, CT as a single point Subaru dealer, we endeavor to Promise Love to all segments of our community. Through the Share the Love Campaign, Subaru of America and Suburban Subaru have donated over $300,000 to the Fidelco Guide Dog Foundation. Fidelco is a non-profit agency located in Bloomfield, Connecticut that provides guide dogs free of charge to blind clients. They raise and train the dogs and give the guide dogs to blind people throughout the United States, thus giving them vision, confidence, independence, and a life. Due to the need of veterans, Fidelco is very focused on helping those that have served. The dogs are transported in four-wrapped Subaru Outback's donated by us here at Suburban Subaru. Even through all the adversity, they recently placed two guide dogs, and 17 pups were born! Another agency that does an outstanding work helping underprivileged kids, is the Central City Boxing and Barbell Club in Springfield, Massachusetts. The club provides kids with a fighting chance by teaching inner city kids the values of life and how to box. The club is housed in an old warehouse in the inner city that has been transformed into a gym. The area was formerly an area of heavy crime and drugs, however with the addition of the boxing club, the area is free of drugs and crime, and the neighborhood park is utilized for recreational activities instead of distributing drugs. It is a wonderful program. The coaches pick the kids up after school and bring them to the gym, where they first finish their homework. Once their homework is completed, they workout and box. After boxing the kids are fed a meal and taken back to their homes. If no one is home, the boxers spend the night with the coaches. Jackets are emblazoned with awards for boxing victories and achievement in academics. The Central City Boxing and Barbell Club provides inner city kids with a fighting chance. Suburban Subaru began a quarterly blood drive partnering with the American Red Cross. It became very apparent in the beginning of the virus that blood would continue to be in high demand. We were honored to have a remote building across the street that was not being utilized that we could hold three large blood drives and keep our community safe. From the start of the pandemic in March 2020 to now, we had the opportunity to help collect 121 units of blood, making our total drive success to over 225 units of blood! Suburban donates two vehicles to the United States Military Athletic Department to help with recruiting and facilitating visits to the Academy. A hole in one car is always provided to the Army Football Club for their annual golf outing and the proceeds of the tournament help enhance the football program at West Point. BEAT NAVY. Owning a park like setting across the street from our dealership allows us to donate the land to a variety of town events such as the Town of Vernon for their annual Summer Days Carnival, the Tri-Town Cruisers for their weekly hot rod club car show and more! Profits help local charities and Fidelco. To help young men and women, Suburban Subaru donates to the Boy Scouts. The town fireworks must go on, and Suburban helps the town with the fireworks display. Veterans ride in Suburban Subaru vehicle during the Memorial Day Parade. With the holidays approaching so are the opportunities too for Suburban to continue the traditions of giving. Providing turkeys to our staff and for soup kitchens during Thanksgiving and sponsoring Toys for Tikes helps bring helps bring warmth to individuals homes and hearts. A race car? Yup, the dealership has sponsored several stock cars at Thompson Speedway in CT, but recently has developed a relationship with former National Champion in the USAC Amsoil Sprint Cars series, Robert Ballou! We sponsor Robert's number 12 sprint car! Robert is a member of the Subaru family as he is a contractor at the Subaru Assembly plant in West Lafayette, Indiana. While some of these activities have been curtailed during the pandemic, when we get back to playing sports and having car shows, Suburban Subaru will be there to continue to help. The Love Promise at Suburban Subaru is all encompassing. Focusing on the idea that the sum is made up from each of its parts, allows us to focus on so many different and critical aspects of our community. We pride ourselves on making a difference and providing assistance to a diverse community. Suburban is a pillar in the community, attempting to help all those that need some Love.
---
Giving Kids a Fighting Chance - Britlyn S
Around the corner from the glitz and lights of the new MGM Grand Casino in downtown Springfield, Mass is the gritty remains of a decaying downtown. There are drugs, crime, and gangs. It is a tough city of run-down apartments and old mansions reminiscent of the glory days when manufacturing created a vibrant city. Times are tough for the youth of Springfield; however, there is a glowing light and amidst the gangs and crime, for its 67 members and over 30 on the waiting list, it is the Central City Boxing and Barbell Club. The club, located in an old brick building, with neighboring houses boarded up, and across from a park that was formerly a drug haven, is the result of the hard work of its founder, Dean Fay. Dean is a police officer in the public schools of Springfield, and an Army veteran with two overseas tours. He sold his house, motorcycle, and boat to help finance the club. Other benefactors including Suburban Subaru keep the club solvent. The club gives "kids a fighting chance." This club is not just your ordinary boxing club; however, it does teach the kids of Springfield to box, defend themselves and stay out of gangs. The club teaches them life skills that give them a chance to achieve. The daily routine is as follows: Dean and the other volunteer coaches pick the youth boxers up after school and take them to the "gym" The gym now has a study area, where for the first hour, homework for school is completed. After all the homework is completed, the youngsters box, hit the heavy bag and the speed bag. They do exercises and jump rope just like they would train in any boxing gym. The gym has two professional rings, and the other necessary equipment to train. Mrs. Fay then fires up the crock pots and prepares a meal for all the club members, and they all eat supper together. Once everything is cleaned up, the boxers are delivered to their home. Most of the boys are fatherless, and if no one is home, the coaches will take the boxers to their house to insure they get a good night's sleep. The Central City Boxers are well trained and conditioned and exhibit good boxing skills. Some of the members recently participated in the Western New England Golden Glove Championship in Hartford, Connecticut. The boxers get a stripe on their jackets for a boxing win, but they get stars for achieving a C, B, or A in school. The club boasts an IBF champion, and another boxer who is 6-0 as a professional. Great accolades, but more important are the skills the boxers develop void from crime, drugs and gangs. The young boxers become leaders in the community. They have pride and are looked up to. The program has grown in leaps and bounds, and another gym is currently being looked at in order to handle the young men who are on the waiting list. While most of us at Suburban Subaru are too old and rusty to get in the ring with the Central City Boxing and Barbell Club kids, we, together with some other Springfield people and Jim Martin of the Law Firm of Robinson-Donovan, are fully supportive of the Central City Boxing and Barbell's mission to give kids a "fighting chance" and an opportunity for a life with opportunity, without drugs, crime, or gangs.
---
Suburban Subaru Loves to Care! - Britlyn S
Over the last 11 years, Subaru's Share the Love has brought a hugely successful end of year sales event to a new level. The idea of giving back to those in need, in a time of need is not new to the auto industry, however, Subaru's initiative has really brought philanthropic thinking to the manufacturer's level, not just the dealer level. So much so, that love is now being felt by other manufacturers as well as other industries. Subaru's Love Promise, morphed from the Share the Love Event, has engaged a wide variety of charities. While all charities have value, we should always remember the basic elements of life: food, shelter, safety and health. One of those organizations that has been a bedrock for communities around the globe and is always in need is the American Red Cross. Beginning in December of 2018, Suburban has hosted a quarterly blood drive. Blood is needed for cancer, trauma, sickle cell, burn and patients with chronic diseases. You may never know who will benefit from your donation, but rest assured they are out there and are appreciative. To date, we have collected 83 units and are currently short of our goal by 17 units. Our next drive will be held here at the dealership on December 17, 2019, and in order to meet our annual goal; we need 41 more units. We are both proud and honored to have partnered up with the American Red Cross, and are looking forward to many more successful drives.
---
Suburban Subaru loves our environment - Debora K
Suburban Subaru staff volunteered and were joined by customers, Subaru Ambassadors, and passers-by to Clean Up on International Coastal Cleanup Day! Our selected location was Center Springs Park in Manchester, Connecticut. Center Springs Park, only 15 minutes east of Hartford, surrounded by residences to the north and commercial to the south, is a little bit of heaven in the heart of Manchester. Complete with a Disc-Golf Course, a waterfall, looped walking and bike trails, and the ability to fish from a pier on a small lake, this little park has something for every nature lover to enjoy. Suburban Subaru's Coastal Cleanup Day crew bagged 67 pounds of trash in a watershed that leads to Long Island Sound, in just a few hours! The biggest offender being cigarette butts! While they don't weigh the most, they were the hardest to capture and one team stopped counting after 150 of them!Suburban Subaru wishes to thank all those involved in helping keep our town clean. We look forward to next year! Suburban Loves our Environment!
---
2019 Subaru Outbacks for Fidelco's Guide Dogs - Doug F
On Wednesday, October 17th, Peter Krause, Owner of Suburban Subaru, General Manager and Partner, Lane Resnik, and Subaru of New England District Manager, Joe Altavilla presented the Fidelco Guide Dog Foundation with two new white Subaru Outback's to assist with their transportation needs of their guide dogs. These two cars coupled with the previous two Outback's make a total of 4 Subarus that have been donated to the nonprofit Fidelco Guide Dog Foundation by Suburban Subaru. The total contribution from Suburban is approximately $125,000 over the past couple of years, or almost $75 a car for the Subaru's that Suburban will sell in 2018. Fidelco Guide Dogs is a nonprofit foundation that raises a select breed of German Shepard Dogs; trains them, and then places them at no cost to blind clients at no cost. Fidelco Guide Dogs is headquartered in Bloomfield, Connecticut where the dogs are bred and has offices in Wilton, CT as well. Founded by engineer and inventor, Charles Kaman, the organization has placed dogs throughout the entire United States. You may find Fidelco Guide dogs leading blind clients on a subway in New York, on a flight across the ocean, or in rural Montana. After the dogs are about 8 weeks old, they are placed with puppy raisers, who lead the dogs to maturity. At around 15 months, they return to the headquarters where they are trained for about 6 to 8 additional months. When they complete their training they are placed with a blind client, and there is about a two week training period. It costs approximately $45,000 to raise and train a Fidelco Guide Dog, and they are given free of charge to their clients. The names of the dogs is predicated on the alphabet. First litter, the names of the puppies begins with an A. Second a B. "Subie" short for Subaru is now in the final stages of training, and hopefully she will be with a client very soon. Due to the high incidents of blindness among our combat veterans, Fidelco has provided vision for those who lost their sight defending our country. One of the veterans, in thanking Fidelco for providing him with a dog, said with my Fidelco dog, I can now take my daughter to the bus stop. Just think of the magnitude of what the dog means, and to further illustrate what a dog means to a blind client. When you go home tonight, turn off your car, take out your keys, and close your eyes. Try to find the door to your home. Keep your eyes closed and try to unlock the door. Once you are in your home, try to find the refrigerator. With a Fidelco Guide Dog, you have increased independence and mobility. Fidelco Guide Dogs has been Suburban Subaru's Share the Love charity of choice since we were allowed to select local charities, and Suburban is proud to be associated with Fidelco. Subaru of America and its Share the Love Campaign has donated over $250,000 to Fidelco Guide Dogs, thus, together with Suburban Subaru, almost 10 blind people now have increased independence and mobility. Fidelco Guide Dogs is a wonderful organization doing an extra ordinary task of providing elite German Shepherd Guide Dogs for those who are blind. Suburban is honored to be a partner in this great program.
---
Summer Days Carnival at Connecticut Golfland - Steve W
Each year the carnival comes to Vernon, Connecticut, and the charities reap the benefit of the work of Steve Wakefield and the volunteers of the Exchange Club. The Rockville Exchange Club, the Maple Grove Club, the Vernon Parks, and Recreation, and the Fidelco Guide Dog Foundation are the major recipients of the proceeds of the carnival. The Kid's Safe Program also participates in the program. The Carnival is housed on a grassy lot owned by Suburban Subaru, and Suburban donates the use of the land so the carnival has a home. The Summers Day Carnival is a great event that makes the community stronger and better and does much to support the kids in town. Over 10000 people attend the carnival which is on four nights in July. Townspeople buy wristbands to go on the rides, and due to the size of the lot, parking is free. In addition to the rides, there is plenty of food, including hot dogs, sausage and peppers, and a favorite, fried dough. It is a carnival for young and old, it unites everyone in the community, and this year, the Carnival celebrated its 10th successful year. Attendance grows each year, and it gets bigger and bigger every year. We are always thankful for the great weather. The Exchange Club in town does a wonderful job to support charities, and the through the use of the property for the Carnival, the Exchange Club donated $1500 to the Fidelco Guide Dog Foundation, Suburban Subaru's charity of choice.
---
Vernon Fire Department Toys for Tikes - Diane C
The Vernon Volunteer Firefighters have been delivering toys to the community's less fortunate children since 1953. The program began within the Rockville Fire Department's Prospect Street firehouse. Members would gather to clean and repair broken toys and distribute to a few of the areas children. Within the 64 years following, our program has expanded to supporting the Town of Vernon with 100% new toys and annual distributions to approximately 400 children. Our community members help us continue to make each year successful and Suburban Subaru continues to be one of our largest supporters. Suburban Subaru began collecting toys on our behalf in 2002. A bond was quickly formed with Peter Krause and Rick Manas to stuff cars with toys. Beginning in the fall, Suburban Subaru would provide a service discount to customers who brought in a new/unwrapped toy. The theory resulted in overwhelming results and has seamlessly continued for years. Today we are welcomed by a larger decorated box that is always overflowing with very generous donations (trucks, games, dolls and bicycles)! Without Suburban Subaru's involvement we would be working with a much smaller base of toys for the local children.Suburban Subaru has set a precedent that is unmatched by any other business. Their customers are loyal and are always there to support our needs. I can't imagine not having them as a partner with our program. As volunteer firefighters, we are called to respond to the most devastating situations that a person can experience. Fire and injury are elements that we cannot control, however, it is fulfilling to bring a bag of toys to a child at Christmas and know that we made their day a little brighter.I thank Subaru for pursuing the Love Promise campaign and giving me the opportunity to share our story of exemplary support that Suburban Subaru's employees show us year after year. Sincerely, Diane Carpenter, Secretary & Toy Coordinator, Vernon Volunteer Fire Department
---
Suburban Subaru and Fidelco Guide Dog Foundation - Suburban S
Suburban Subaru's partnership with Fidelco dates back over 10 years, when Suburban Subaru sponsored walkers for Fidelco's annual fundraising Walk. Fidelco Guide Dog Foundation partners exceptional men and women who are blind with elite German Shepherd guide dogs, providing all clients with increased independence to improve their lives and the world around them. Pete Krause, President of Suburban Subaru, toured Fidelco in 2013 and had a first-hand look at the Fidelco process from pup to partner, including experiencing a blindfold walk with a guide dog in-training. Suburban Subaru has since become an exceptional partner with Fidelco. In 2014, Suburban nominated Fidelco as its hometown charity for Subaru's "Share the Love" campaign, raising $13,916.53 that first year. In the last three years of the "Share the Love" campaigns, Suburban Subaru employees have helped raise $97,480.45 for the Fidelco Guide Dog Foundation. Each Fidelco German Shepherd guide dog takes two years, 15,000 hours, and $45,000 to breed, train, and place. Thanks solely to the compassionate generosity of its partners, like Pete Krause and Suburban Subaru, the dedicated work of its staff and volunteers, all Fidelco guide dogs are given to clients at no cost. The partnership with Suburban Subaru also extends beyond financial contributions. Last year, Pete Krause and Suburban Subaru generously donated two Outback wagons to Fidelco's program.
---