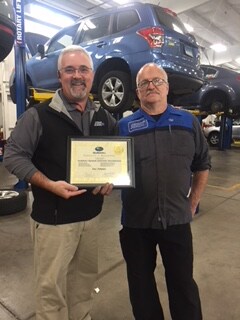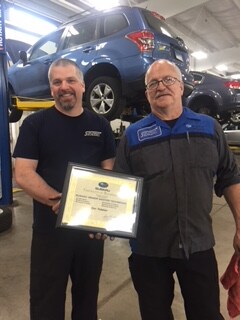 The Suburban Subaru Duo!
Meet Don Pelletier and his son, Frank, a Suburban Subaru Master Technician duo! Both are 20-year veterans with us. We just had the honor of recognizing Don Pelletier, as a Subaru Master technician while Frank is our shop foreman! Don now joins five other master technicians at Suburban Subaru.

Interviewing Don and Frank was no ordinary conversation as they answered each other's questions and we had a few too many laughs! Don has been in the automotive industry for 55 years now, having the opportunity to work on many vehicles makes and models. He has been married for 45 years to his wife Cindy; they have three sons, 3 grandchildren, 1 cat, 2 dogs and a parrot that they have had for thirty years! Both Don and Frank enjoy to fish.

The Automotive business has been running in their blood as Don's father owned a local garage in Coventry, CT for 17 years called Pelletier Chevron. He started by pumping gas at 8 years old, completing oil changes as 9, and do valve and timing chairs at 12! When asked why Suburban Subaru, "the customer base has expanded so much from any other vehicle make, it's close to home and the people are friendly!" He states, "it's a good place to learn."

Frank started working here just 4 short months after his father where he met his wife, Sharon, one of our service advisors! Frank and Sharon have now been married for 12 years; have a 10-year-old son, Kyle; and have just added a puppy, Finley, to their family. After coming from an independent garage, Frank was surprised by how much Suburban will do for its customers. Beyond working with his father, he says, "it's a family-oriented business." He went on to say, "It's my second home."

Both foresee things changing in the years to come as the business is always evolving. Frank even suspects our building expanding even further to accommodate our customers as nothing would surprise them at this point!

We asked Rick Manas our Service Manager how it is working with a father/ son team, "Since day one it has never been a problem!" Frank says, "He does his job." And Don says, "it's okay most days, he really is an awesome tech."

We are so proud to have Frank and Don on our team!