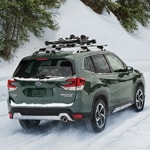 The 2022 Subaru Forester is a versatile and capable SUV that is sure to meet the needs of any driver. With its powerful engine, robust off-road capabilities, and comfortable interior, the Forester is an ideal vehicle for those looking for a reliable and capable SUV.
The 2022 Subaru Forester is powered by a 2.5-liter four-cylinder engine that produces 182 horsepower and 176 lb-ft of torque. This engine is paired with a continuously variable transmission and Subaru's Symmetrical All-Wheel Drive system, allowing the Forester to tackle any terrain with ease. The Forester also offers 8.7 inches of ground clearance, allowing it to traverse over rocks and other obstacles with ease.
In addition to its off-road capabilities, the 2022 Subaru Forester also offers a comfortable interior. The Forester comes standard with cloth upholstery, a 6.5-inch infotainment system, and Apple CarPlay and Android Auto compatibility.